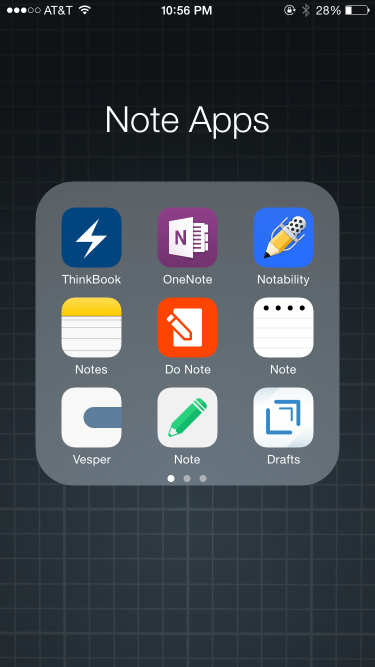 I have a lot of apps that I love for specific categories, but there are many categories where I am constantly in flux. Notes is one of those categories. My plan is to fix this over the next couple weeks. I want to choose the best app out there and commit to it.
While I have used a lot of different note apps already, I want to go through them again to find which one fits best and stick with that going forward. The hardest part with this task is iOS 9. At WWDC last month, Apple announced a big over haul to their own note taking app. Because of this I will probably skip that one for now, unless I get the public beta before I finish going through them. I plan to try all the major players in this category; Evernote, Simplenote, OneNote, and Vesper. I will also try a few others that are less known or wouldn't be thought of as your standard note taking app. I will give feedback and thoughts as I go through them and then name my favorite.
We all work in our own ways, and taking notes is something everyone does a little different. I hope that by doing this it will at least shed some light on the market and let you know what might work best for you as well.